Showcasing my trades, along with the thought process behind it, allowing for experts to critique them and for other learners to learn...
My trade for today, using the knowledge I gained from these boards....and mainly the
BB worm
...which I use for entry and exit signals. Many thanks to columbus for introducing this technique on these forums and also my gratitude to AW10 for introducing the
NR7 concept
...and the developer of
keystocks lite
for a super software
I use keystocks lite to identify NR7 and
NR21
stocks. Then further downsize the list based on which stocks are available for Max Trade (*10 exposure) in sharekhan. Using trade tiger, I then mark the resistance and support level for these stocks based on the NR7 / NR21 strategy. If there are no stocks meeting the NR7 / NR21 requirements, then I don't trade that day. Out of these shortlisted stocks, based on price action and their sensitivity to NIFTY, I select ONE stock to trade in....all the others I am not interested in....one is all my brain can handle...
Woke up late today...logged into sharekhan around 10:30 am. All the other stocks I had shortlisted for the day had already broken and gone way below the support lines that I had set...silly me.
Only HCL tech was near the resistance line that I had set, having marginally cut it....so I decided to stick with it and see what happens...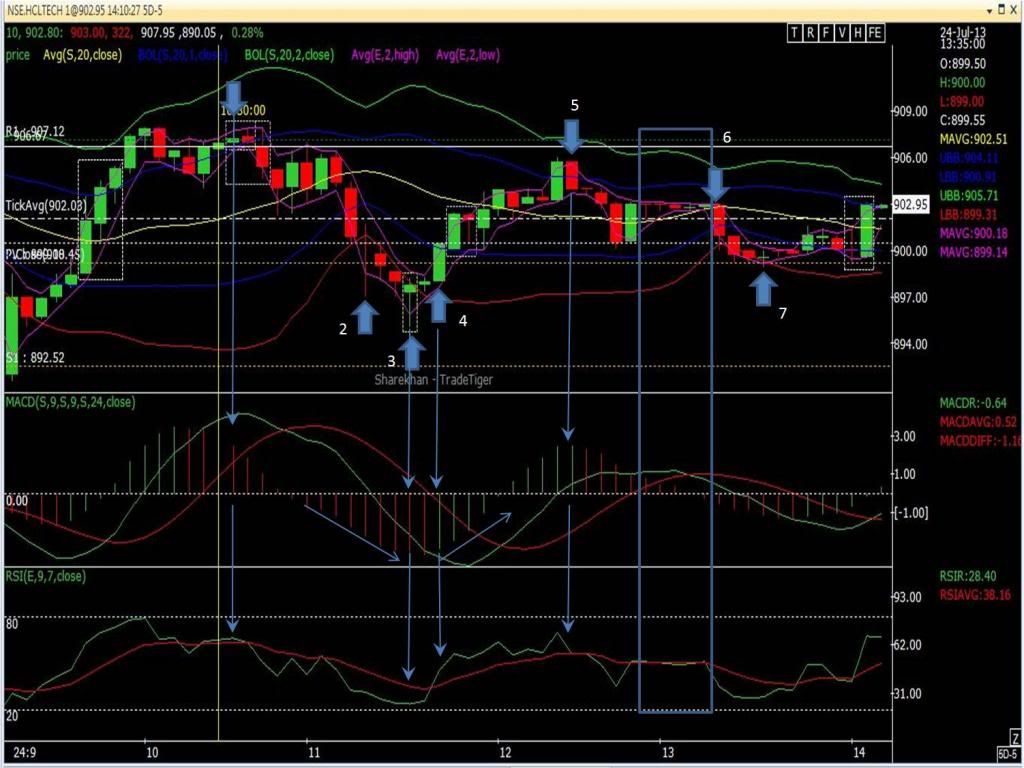 1) Possible entry point, since it cut the NR7 high of 906.50. Also the price is above the upper BB line of BB (20,1), possible buy signal The MACD however, showed a decrease in momentum and the RSI is close to the RSI avg. Decided to wait and watch for a healthier trend....the nifty was also on a downtrend, making me very cautious about entering here....
2) A nice cup of coffee followed by a delightful candle, sending the E-2-low below the bottom BB line. Get ready to rock and roll baby...
3) A bullish green hammer, and the E-2-low is starting to come back into the BB band...
The adrenaline rush and a few tense moments, waiting for the price action to do good things allowing for a nice entry signal :annoyed:
4) Entry point for long position. RSI is good, MACD shows upward momentum and the E-2-low is inside the BB band...entry price 899. The stop loss was set at 895, which is just below the bullish green candle marked by arrow 3.
5) Exit long position, even though price has not touched upper BB band. The MACD is slowing down and so is the RSI. Exit price 904, giving me a 4% profit.
Revised and kept setting trailing stop loss, which allows me to wait for the higher price movements without worrying about a big loss or regretting waiting too long....
6) The box shows that region where the price action was moving sideways, above the BB centre line. The RSI was also confused, signalling a price breakout. The MACD crossover suggested a downward trend...took a short position at 902, couple of candles after the MACD crossover...and bam it was my lucky day, the price went down :clap:
The stop loss for this trade was 903.20, which is the high of the big green candle just outside the box. Very cautious stop loss, since I was not entirely which way it would go.
This was a slightly risky trade, it could have gone either way. The other key factor was that the price action kept going sideways even though the nifty was gaining. This suggested that HCL price did not want to go up anymore, tired of climbing and looking to go down for some rest.. :thumb:
7) The price action cut the bottom BB line and the MACD and RSI slowed down...signalling a possible end to the downtrend. Exit short position at 899.50 for a 2% gain...eat lunch and get ready for a siesta
Post siesta I see that HCL went even further down to finish off with a day low of 894.35 formed at 15:25....but no regrets, happy day today...
Edit: (25th July 2013)
Note 1: The following thread contains trades performed by trained professionals on a proper trading platform under strict supervision of the government. Any attempt to recreate these activities could result in loss of money, heartaches, stomachaches and even in some cases death....
Note 2: This thread contains my trading technique, learnt from these forums and various other sources across the internet. Also, it is a reflection of my thought process, not necessarily correct or usable for other traders.
Last edited: