Dear Groww
when you talk about investing in us market----
1) what is the minimum transaction fee (TT charges ) for ₹=$ (say $5000) is it ₹500/₹1000/₹1500? & $>₹ when we bring back the profits !
2) what will be the $/₹ exchange spread ? who is your forex remitting bank out of India?
3) thro whom you trade /clear/settle in USA? ( I mean your associate us broker?
4)Us securities exchange protection is for each indivual Indian client or to groww if your USA broker defaults?
5) do you have FEMA clearence for channeling INR to foreign markets on behalf indian citizens?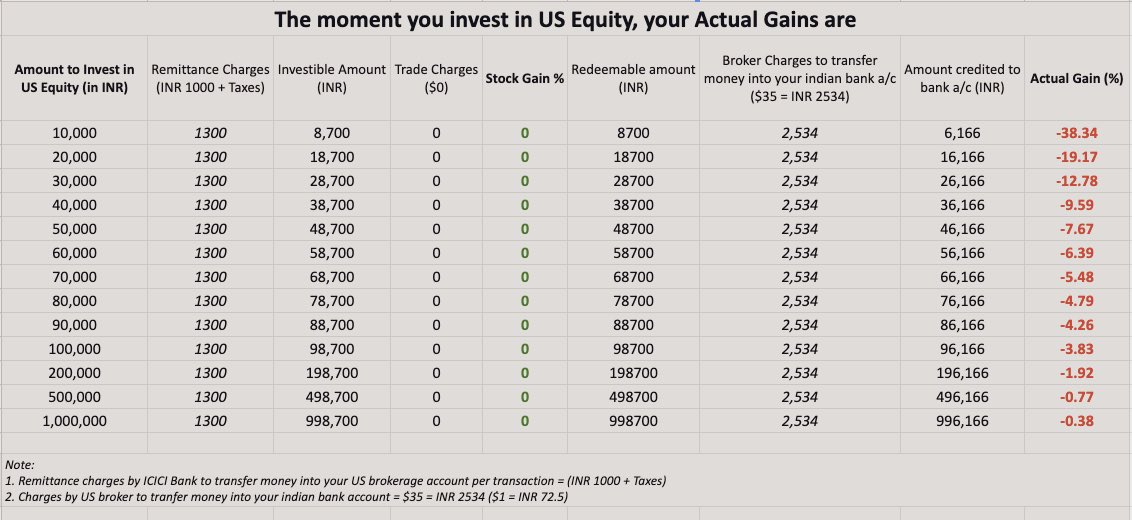 Dear brokenbull, hope this helps:
1. Groww does not charge anything for funding your USD balance. For any foreign funding transaction, the banks generally charge a forex conversion rate and a service charge plus GST per outward remittance. Bank service charge can range from Rs. 500 to Rs. 1000, depending on your bank. There are no other hidden charges for funds transfer.
2. Transferring $ from US to INR in user's bank a/c: Groww offers first withdrawal free of cost! All subsequent withdrawals will be charged at $9 per withdrawal. This is the lowest withdrawal fee offered in the market and Groww does not take any cut from this fee.
Just to give you some perspective, if you go for withdrawal via your bank wire transfer, usually you would have to pay a flat fee of $30 charged by remitting bank towards outward clearance. Groww offers the same withdrawal for only $9.
3. Every bank decides the foreign exchange rate that it will offer on a daily basis. As you must be aware, when buying foreign currency, the exchange rate offered is usually higher than the forex rate that you see on the internet. This rate is not decided by Groww, user's bank decides it. You can get in touch with your bank/ relationship manager to offer you a better rate.
4. Your brokerage account is managed by Viewtrade Securities (VTS), who works with Apex Clearing corporation for trade clearing and custodian aspects of user accounts.
VTS is registered as a securities broker-dealer with the US, Securities Exchange Commission ("SEC"), (SEC# 8-51605) and is a member of the Financial Industry Regulatory Authority, Inc. ("
FINRA
") (CRD# 46987); and Securities Investor Protection Corporation ("SIPC").
5. Your assets and account are held by Apex clearing and managed by ViewTrade securities. In the most unlikely event that Groww and ViewTrade moves out of business, your holdings and account is completely safe and kept with Apex. You might not be able to trade further till the time a broker is allocated, but your holdings will be untouched. In the event that the custodian discontinues business then the SIPC insurance of $500,000 will kick in.
In the US, the customer's holdings/assets are kept in separate account and cannot be touched for business purposes or neither will it act as a collateral for company/broker firms.
6. US brokerage regulation recommends that every account is to be insured as per
SIPC
insurance act. Groww's brokerage partner ViewTrade is a member of SIPC which protects all securities and cash holdings in your accounts up to $500,000 of which $250,000 may be in cash.
SIPC protects the customers assets in a financially troubled SICP brokerage member firm. Please note that this USD 500,000 is not applicable on general losses in the stock market.
7. You own the shares and all your investments/accounts. The accounts are opened in your name with your credentials and belong solely to you. As per SEC guidelines, you may verify the ownership of your account and shares by contacting ViewTrade at
[email protected]
for the same. Groww does not channel any money on behalf of its users. Users themselves transfer money for investing through their personal bank accounts. Under the RBI's
LRS
(Liberalized Remittance Scheme), any Indian resident can invest up to a limit of $250,000 in a financial year in the foreign market. LRS also includes other remittances that you might be doing like, foreign travel, abroad education, etc. under the same transfer mode. Where in this case it would particularly be for foreign portfolio investments. All LRS based investments are moderated by RBI guidelines.