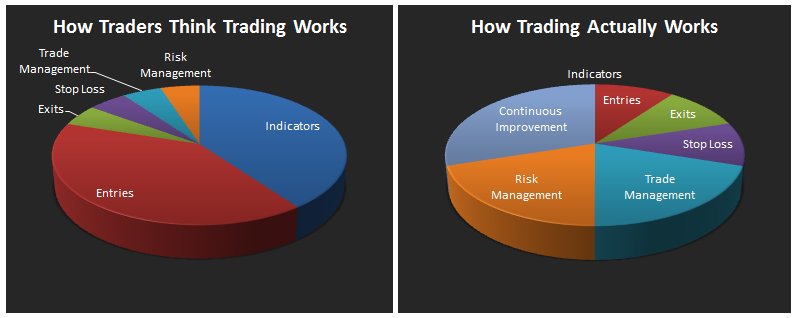 Image says it all.
1)
Your strategy plays a tiny part.
Stop looking for miracle strategy/ indicators. Trust me we have all been there. :thumb: You can ask any pro trader if you want.
I personally use only 2.75 SD bollinger band. Never really needed anything else. When I first began trading, I used all types of combinations (macd+rsi, rsi+stoch+ macd, 10 and 20 SMA, ADX, accumulation distribution) and finally figured out that the key for success is not in the strategy.
2)
Entries, exits and stoplosses also only play a minor role.
Stop looking for ideal trades. Buy low sell high is a myth. You really want to waste your extra energy fighting for those extra 5 pips? Good luck.
3)
For God's sake, use a journal and review your trades everyday.
A lot of people stressed it 1000 times here. Please use a journal and review your trades. I can say that a difference between a professional trader and a normal trader lies in his usage of journal.
Continuous reviewing of your trades and improving is the key to success in this business.
Lazy and couldn't do it? Don't cry if you blow your account.
4)
Trade management is the hardest part to master.
Before entering a trade, you have to calculate all the possible scenarios beforehand especially the worst case scenario. Be prepared for those sudden moves against your trade.
Always be ready to exit whenever market turns against you. Remove that mindset of "Will wait for a few candles and try to cut my losses later".
Trading is pretty simple guys. :clap: Better save the image and try to understand it. I'm sure that every pro trader agrees with that photo.